When you've got no time to spare, it's all about the basics, those pieces that help you bring your look together without spending a single second worrying about what to wear.
So, this July at Jeanswest, we're giving you back time to do more of what you love with a range of warming winter wardrobe staples. These are the everyday favourites you'll be reaching for again and again—easy-to-wear, mix-and-match basics in colours and patterns that are anything but bland.
Take on anything the day throws at you
Always look perfectly put together, whether you're relaxing at home or out ticking off your to-do list. Our mustard, denim and navy spot staples are classic and fun, all wrapped in one: match our godsend Eco Soft Denim Jeans with a Stella Cotton Knit Top in mustard to make them pop. Top it off with a super elegant, tied-at-the-waist Charlotte Mac Navy Spot Jacket (with cute spot lining) for extra winter warmth and great relaxed looks.
Complete the look
Spot on
As the cool weather comes around, add a dash of style to your off-duty look with our Navy Spot colourway—it's a playful twist on a wardrobe classic that looks brilliant with everything from denim to neutrals.
We love this look so much we've sprinkled it throughout our July fashion drop. Try it on for size with knits, tees, blouses, and our gorgeous Emilia Tiered Dress that's a little bit flirty and a whole lotta chic to take you effortlessly from day to nightlife.
Complete the look
Trend to try: Mustard
This warm ochre hue is everywhere at the moment, and we love it! Surprisingly versatile, it adds a pop of sunshine to a dreary winter day that never fails to make you smile. Pair it with distressed and light denim for a fun look, freshen it up with white for contrast, add to navy or black for a polished, workday wardrobe, and add a bold pink lip to finish.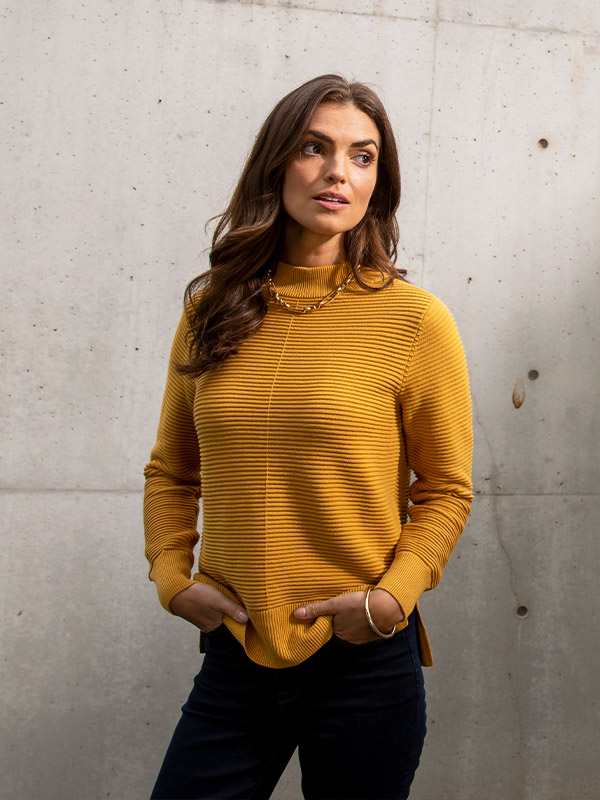 Complete the look